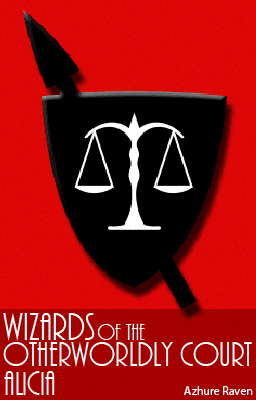 "Why are my hands getting warmer?"
As far as Alicia was concerned, she was the daughter of a rich businessman attending high school.
Then, she feels off and at the same time, she's not.
One week later, her best friend brought her to another world(s).
This is Alicia Bell's tale.
1st book written of the Wizards of the Otherworldly Court series.
Cross-posted with Wattpad and RoyalRoad.
Wordcount: +155k words.
Chapter 1, 2, 3, 4, 5, 6, 7, 8, 9, 11, 12, 14.1, 15, 18 rewritten. Chapter 10 minor revision done. Chapter 16.1.5 revised and reindexed as Chapter 16.1.S. Chapter 18 split into 18.1 and 18.2.
2nd place winner of the Star Gazing Awards fantasy category. It's a user-hosted competition in Wattpad.
The rewrites are done to add more details, improving language, and fixing poorly explained or outdated lore that would otherwise conflict with later chapters.
Story completed on 12 September 2020. I first published this story on Wattpad around January 2019, excluding the first drafts, couldn't know the specific date because of how Wattpad updates the date of chapters published when edited.
---
---
Chapter 1.1: An Unusual Morning – Part One
Chapter 1.2: An Unusual Morning – Part Two
Chapter 1.3: An Unusual Morning – Part Three
Chapter 2: The Otherworldly Court
Chapter 3: Conversation in the Evening
Chapter 4: Mother Is From Another World!
Chapter 6: Hundred Percent Loyal Maneg
Chapter 7: Aqua, the Fire Guardian
Chapter 8: Slaying Skeleton Goblins
Chapter 10: A Vampire and Its Hunter, a Knight and Another Knight
Chapter 11: The Price of Loyal Maneg and More Court Wizards
Chapter 12: The Second Mission, Killing 'Bandits'
Chapter 13.1: Problems of the Conglomerate – Introduction
Chapter 13.2: Problems of the Conglomerate – Complication
Chapter 13.3: Problems of the Conglomerate – Conflict
Chapter 13.4: Problems of the Conglomerate – Conflict
Interlude 3: Bunch of Experiments 1
Chapter 13.5: Problems of the Conglomerate – Conflict
Chapter 13.6: Problems of the Conglomerate – Conflict
Chapter 13.7: Problems of the Conglomerate – Climax
Chapter 13: Problems of the Conglomerate Interlude – of the Dark Guardian's Day
Chapter 14.1: Adventures in Manegia – Beginnings
Chapter 14.2: Adventures in Manegia – Complication and Conflict
Chapter 14.3: Adventures in Manegia – Conflict
Chapter 14.4: Adventures in Manegia – Conclusion
Chapter 15: Because of a Promise
Chapter 16.1: New Steps – Initiation
Chapter 16.1.5: Scientific Law and Fantasy Law, and Maneg
Chapter 16.2: New Steps – Biwharls
Chapter 16.3: New Steps – Of Pirates and Invasions
Chapter 16.4: New Steps – The Contract
Chapter 16 Extra 1: Of the Defense Against Laegar – Prelude
Chapter 16 Extra 2: Of the Defense Against Laegar – Happenstance
Chapter 16 Extra 3: Of the Defense Against Laegar – Dual Eye
Chapter 16 Extra 4: Of the Defense Against Laegar – Third
Chapter 17.1: Fighting the Demon Lord in the Shadows – Brief
Chapter 17.2: Fighting the Demon Lord in the Shadows – Phase 1
Chapter 17.3: Fighting the Demon Lord in the Shadows – Phase 1 After, a Barbecue
Chapter 17.4: Fighting the Demon Lord in the Shadows – Phase 2, Sabotage
Chapter 17 Extra 1: Phase ???, Assassination
Chapter 18.1: The Wanderer – Encounter
Chapter 18.2: The Wanderer – Heartfelt Cry
Chapter 19.1: A Ritual to Be Grounded – Brief
Chapter 19.2: A Ritual to Be Grounded – Contact
Chapter 19.3: A Ritual to Be Grounded – Chasing
Chapter 19.4: A Ritual to Be Grounded – Astonishment
Chapter 19 Extra 1: The End of a Different Story
Chapter 19.5: A Ritual to Be Grounded – War of the Princes and Nobles Epilogue
Chapter 20.1: The Awoken Dream to Test the Heart – Prelude
Chapter 20.2: The Awoken Dream to Test the Heart – Arguments
Chapter 20.3: The Awoken Dream to Test the Heart – Entering
Chapter 20.4.1: The Awoken Dream to Test the Heart – Confronting First Half
Chapter 20.4.2: The Awoken Dream to Test the Heart – Confronting Second Quarter
Chapter 20.4.3: The Awoken Dream to Test the Heart – Confronting Final Quarter
Chapter 20.5: The Awoken Dream to Test the Heart – Continuing
Chapter 20.6: The Awoken Dream to Test the Heart – Infiltration Start
Chapter 20.7: The Awoken Dream to Test the Heart – Vague Orders
Chapter 20.8: The Awoken Dream to Test the Heart – Power of Ignorance
Chapter 20.9: The Awoken Dream to Test the Heart – Firefight
Chapter 20.10: The Awoken Dream to Test the Heart – Breaking
Chapter 20.11: The Awoken Dream to Test the Heart – Passivity
Chapter 20.12: The Awoken Dream to Test the Heart – Recollection
(Final) Chapter 21.1: The Choice – Contemplation
(Final) Chapter 21.2: The Choice – Advice
(Final) Chapter 21.3: The Choice – Rin's Resolve
(Final) Chapter 21.4: The Choice – I Decided
Interlude 5: Bunch of Experiments 2