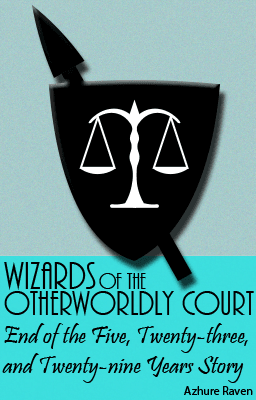 Alternate titles:
Five, Twenty-Three, Twenty-Nine Years
5, 23, 29
"Dad? I think I got a really bad fever, why do I still feel fine?"
"It feels cold…"
Five years ago, Owen became a Court Wizard in search of his father who was lost to the unknown three years prior. But that wasn't the beginning of the story.
Maybe it began twenty-three years ago when Ronald Bell and Joshua Ruze saved the Illyer family.
Or perhaps, it all started twenty-nine years ago, when Ronald, the son of the wealthiest merchant, became a Court Wizard.
Well, it doesn't matter anymore, for the story five, twenty-three, and twenty-nine years ago shall now meet its end.
This story is split into two 'Collections,' Ronald's Collection and Owen's Collection, each centering around those Court Wizards.
2nd book written of the Wizards of the Otherworldly Court series.
Read book 'Alicia' before this.
---
---
Ronald's Collection
Chapter 1: The Return to Spiri Raia
Chapter 2: Background Checking a Duke
Interlude 1: Bunch of Experiments 3
Chapter 3.1: Meeting the Duke – Contact
Chapter 3.2: Meeting the Duke – Initial
Chapter 3.3: Meeting a Duke – Confusion
Chapter 3.4: Meeting a Duke – Agreement
Chapter 3 Interlude: During Breakfast and After
Memory 3: For the Good of the World 1
Chapter 4.1: Protecting the Duke from Assassins – Thoughts
Chapter 4.2: Protecting the Duke from Assassins – Attempt
Chapter 4.3: Protecting the Duke from Assassins – Story
Chapter 4.4: Protecting the Duke from Assassins – Want
Chapter 4.5: Protecting the Duke from Assassins – Remember
Memory 4.1: For the Good of the World 2 – Bad Timing
Memory 4.2: For the Good of the World 2 – Argue
Memory 4.3: For the Good of the World 2 – Aftermath
Chapter 5.1: Protecting the Duke from Bandits – Thoughts
Chapter 5.2: Protecting the Duke from Bandits – Assault
Chapter 5.3: Protecting the Duke from Bandits – Shock
Chapter 5.4: Protecting the Duke from Bandits – Awe
Chapter 5.5: Protecting the Duke from Bandits – Formalities
Chapter 5.6: Protecting the Duke from Bandits – Rescue Again
Chapter 5.7: Protecting the Duke from Bandits – Hand
Memory 5: For the Good of the World 3
Chapter 6.1: With the Illyers – Part One
Chapter 6.2: With the Illyers – Part Two
Chapter 6 Interlude: With the Illyers – Extra
Memory 6: For the Good of the World 4
Chapter 7.1: A Mansion Set Ablaze – Ranting Prelude
Memory 7: Because for the Good of the World, She Passed
Chapter 7.2: A Mansion Set Ablaze – It Begun
Chapter 7.3: A Mansion Set Ablaze – Flame
Chapter 8.1: Why They Cannot Return – 11-Century War
Chapter 8.2: Why They Cannot Return – Betrayed And Move On
Chapter 8.3: Why They Cannot Return – Greater Spirit Lament
Chapter 8.4: Why They Cannot Return – Greater Spirit Resolve
Chapter 8.5: Why They Cannot Return – The Great Sea
Chapter 8 Interlude: In the Otherworldly Court
Chapter 9.1: Moving in with the Illyers – Thoughts
Chapter 9.2: Moving in with the Illyers – Settling In
Chapter 9.3: Moving in with the Illyers – Living In
Chapter 10: To Each of Their Ends
Mid Collection
Chapter S: Regarding Aqua Becoming the Fire Guardian
Owen's Collection
Memory 1: Before Five Years Ago
Chapter 1: After Five Years, a Lead
Chapter 2: An Unusual Reunion Before Going Back to Spiri Raia
Memory 3: Mundanity Before the Freezing of Mount Vulgis
Chapter 3.1: Meeting the Spiri Raians – Greater Spirit Heir
Chapter 3.2: Meeting the Spiri Raians – History of the Spirits
Chapter 3.3: Meeting the Spiri Raians – Spirits Today 1
Chapter 3.4: Meeting the Spiri Raians – Spirits Today 2
Chapter 3.5: Meeting the Spiri Raians – Bell Branch Manager
Memory 4: To the Freezing of Mount Vulgis
Chapter 4.1: Reuniting with Owen's Father – Reunion
Chapter 4.2: Reuniting with Owen's Father – While He's Missing
Chapter 4.3: Reuniting with Owen's Father – Reason for Absence